Polycystic ovary syndrome (PCOS) is a condition that affects roughly one in five women. Boostceuticals Berberine provides hope for these women to live beyond suffering and overcome challenging symptoms in the most natural way.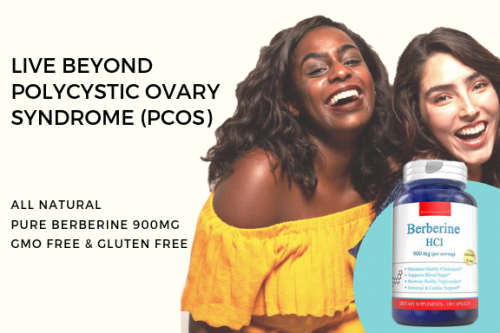 New York NY, United States - May 5, 2019 /MarketersMedia/ —
Polycystic Ovary Syndrome or PCOS affects approximately 14 million women in the U.S. alone and 200 million worldwide. Women with PCOS also have extra androgens. Although people often think of androgens as male hormones, females have them too. The extra androgen can lead to acne, excess body hair, weight gain, irregular periods, and other PCOS symptoms. According to experts, it can be related to insulin (a hormone that helps turn food into energy.) as women with PCOS frequently have high insulin levels. High insulin levels can cause thickening and darkening of the skin (acanthosis nigricans) on the back of the neck, axilla (under the arms), and groin area. In young women with PCOS, high insulin levels can cause the ovaries to make more androgen hormones such as testosterone. This can cause increased body hair, acne, and irregular or fewer menstrual periods.
Most women with PCOS are prescribed metformin as a form of insulin sensitizer to help with symptoms. An insulin sensitizer works to lower blood sugar levels by increasing the muscle, fat and liver's sensitivity to insulin. However, many women with PCOS experience gastrointestinal side effects of metformin such as diarrhea, nausea, and stomach crams. Long-term metformin use has also been shown to affect the absorption of vitamin B12.
Currently researchers are looking into a natural way to help women with PCOS. According to their studies, Berberine can offer numerous benefits to women with PCOS including improving fertility, assisting with weight loss, and lowering the risk of metabolic complications that are associated with the syndrome such as type 2 diabetes, high cholesterol, and fatty liver disease.
With the all-natural Boostceuticals Berberine, its biggest role in PCOS is as a potent insulin sensitizer. Berberine has been shown to improve insulin resistance in a similar way to metformin. With this reason, Boostceuticals perfect blend of science and nature may assist to improve insulin and glucose control.
Studies has shown that the women with PCOS who took Berberine saw greater reductions in body fat loss as well as significant reductions in total cholesterol, LDL (bad cholesterol levels), and triglycerides as well as a significant improvement in HDL (good cholesterol levels). In addition, taking Berberine lowered total testosterone levels similarly to that of metformin.
Another symptom that women with PCOS struggle with is weight control. Weight loss is more difficult for many reasons including increased insulin resistance, strong cravings for carbohydrates, and impaired appetite regulation. Boostceuticals Berberine offers hope to women with PCOS who struggle with their weight. Berberine has been shown to reduce the secretion of the appetite stimulating hormone leptin. Berberine has also shown to be effective at assisting with weight and body fat loss by inhibiting the enzyme lipoprotein lipase, which is responsible for fat storage.
Berberine has also been shown to be an effective option to reduce a fatty liver. Women with PCOS are at an increased risk of having fatty liver disease due to the relationship with high insulin levels. It has been found that Berberine improves non-alchoholic Fatty Liver Disease by preventing liver fat build up and promoting fatty acid oxidation in skeletal muscle
.
'Living with PCOS can really be difficult and unbearable, but this doesn't have to be the case." Leo Eliades, CEO Boostceuticals explained." Rather, with the right supplement like Boostceuticals Berberine, one can live beyond their symptoms and embrace the life they deserve".
About Boostceuticals Nutrition
Boostceuticals is dedicated to supporting people on their pursuit of health and wellness. With the right blend of nature and science, all Boostceuticals supplements are manufactured to the highest-quality standards in the USA in an FDA certified facility adhering to all GMP requirements.Every step is taken to ensure the development of superior and fine quality nutritional supplements. With its use of natural ingredients and being GMO free, it has become the sensible and healthier choice for every American household.
Contact Info:
Name: Alicia Walters
Organization: Boostceuticals
Address: 228 Park Avenue, S# 71493
Website: https://pxlme.me/xpsgQDen
Video URL: https://www.amazon.com/dp/B07H2MX5VJ?ref=dp_vse_rvc3
Source URL: https://marketersmedia.com/women-struggling-with-pcos-find-relief-and-hope-with-all-natural-berberine-remedy/508961
Source: MarketersMedia
Release ID: 508961