A seldom recognized minority in society—people with special needs— are gaining acclaimed attention and being taken to new heights with the premier ...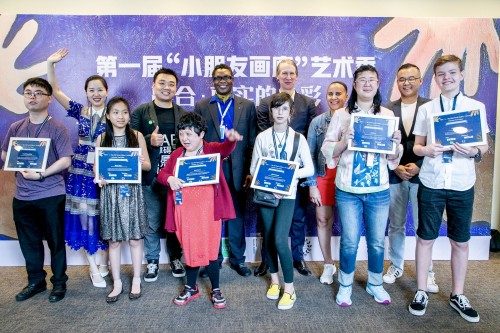 June 18, 2019 —
A seldom recognized minority in society—people with special needs— are gaining acclaimed attention and being taken to new heights with the premier of the 1st "My Little Friend's Gallery" Art Fair founded by WABC Charity Foundation. The "My Little Friend's Gallery" Art Fair has been initiated to showcase and celebrate the creative art talents of children, teenagers, and people with mental disabilities. Moreover, the airing of the exhibition provides an opportunity for the pubilic to better understand the light and love that these little friends bring to the world.
With the theme of "Inclusion · True Colors", the art fair calls for art pieces that feature an inclusive and harmonious society where children, teenagers and those disadvantaged groups are understood and cared for. The artwork paints a vision of widespread social acceptance and encouraged integration in society for all groups, so as to build a future wonderland for our children.
The 1st "My Little Friend's Gallery" Art Fair exhibitions have launched in the two most preeminent cosmopolitan cities: New York and Shanghai. Two exhibitions opening attracted thousands of visitors from diverse backgrounds offline and online.
On May 31st, WABC Charity Foundation, partnered with No-Boundaries International Art Exhibition ("NOBO"), has officially launched the 1st "My Little Friend's Gallery" Art Fair at the Delegates' Dining Room at the United Nations in New York City, featuring over 100 art created by artists from 10 different countries, such as China, the U.S., Japan, France, Kenya, Brazil and so on. After the pre-exhibition, two exhibitions are open to the public at the Asian Art Foundation Gallery in NYC and the YUAN Art Center in Shanghai during June.
Mr. Shiming Miao, the founder of WABC Charity Foundation and the curator of the art fair, gave an opening talk at the pre-exhibition, said"We hope that "My Little Friend's Gallery" Art Fair will continue to evolve and develop into the future, one day becoming a international platform and event that "little friends" look forward to participating in." Ms. Baitong Yan, the founder of NOBO and co-curator of the art fair, said, " Art has NO-BOundaries. Without being restrained by nationality, language, or culture, children express their observations and sentiments through their artwork. Therefore, they can learn to understand and respect each other's differences to develop diverse viewpoints. Moreover, each artwork from "My Little Friends Gallery" is of a different style and genre, reflecting the genuine inner worlds of our children." Prince Dr. Wale Idris Ajibade, the artists, Mr. Xuewu Zheng (China), Ms. Rosa Malalengoitia (Peru), Ms. Louisa Lama-Aknin(France) attended the pre-exhibition and presented certificates to the artists.
Eleana Dai, an 8-year-old artist, said,"Art shows us the beauty of the world, telling us the stories and emotions of people living in the continents with different cultural backgrounds. It reduces the distance between us and brings our hearts closer."
On June 5th, the YUAN Art Center (YUAN) officially unveiled the opening of Shanghai exhibition of "My Little Friend's Gallery" Art Fair. Its opening kicked off with guest representatives Mr. Ying Wenhui, the board member of WABC Charity Foundation, Ms. Quan Dongyu, director of YUAN, Mr. Huang Si, art director of WABC, and Mr. Tang Yi, CEO of Yinxiang Biji, offering their congratulations to the successful opening.
YUAN is a newly established platform and a result of many accumulated years of Art Brut and social advocacy successfully championed by the WABC. The name "YUAN" both encompasses the meaning of beginning and broad tolerance, and can also be traced to its original denotation of being whole and pure. YUAN has dedicated a myriad of unique cultural and creative initiatives, such as workshops, exhibitions, research, collections, and public education activities, to promote the development of art brut and the integration of multiple arts.
What's more, with the technical supports from The Microsoft Office 365 China R&D Team and Yingxiang Biji, "My Little Friend's Gallery" Art Fair can be heard and reached online. The Microsoft R&D Team made the visually impaired audience can listen to the stories told by the artists and enjoyed the art through the 'Sound Gallery'. And Yingxiang Biji actualized an online art museum so that people can transcend the limits of time and space.
"My Little Friend's Gallery" Art Fair aims to connect little friends all over the world by art, tear off the "special" label, set up a channel for integration and dialogue, and advocate a world with diversity and inclusion. May every child's spiritual paradise have no ties and always be colorful!
WABC Charity Foundation
WABC was founded in Shanghai in 2010 as a non-profit organization providing the special needs population with art therapy courses. By setting up workshops and providing courses in communities, WABC offers opportunities for people with special needs to display their artistic talents. Art therapy courses, as a supplementary therapy, are proved to be effective both in the interest cultivation and rehabilitation of the special needed. WABC is engaged to make the general public be aware of and more responsive to the amazing artistic gifts of the special needed through exhibitions, selling derivatives and other forms, so as to realize the social and economic values of the disabled. In 2016, WABC Charity Foundation was founded. Hope more people understand and protect the pureness, freedom, and happiness worlds of the special needed.
NOBO
No-Boundaries is a 501(c)(3) non-profit organization based in New York City, aims to promote future generations' global awareness and social responsibility through art education and hone socially responsible global citizens. Since our establishment in 2016, we have held international art exhibitions in China, the United States, France, Brazil, and Kenya through the platform of the Columbia University Global Centers for three consecutive years, in which more than 30,000 children from 15 countries participated.
Contact Info:
Name: Ye Qing
Email: Send Email
Organization: No-Boundaries International art and culture
Website: http://www.noboundariesartshow.org
Release ID: 526205