Recently, the world's top AI competition—ICDAR officially revealed the results of 2019 competition. CCi(Team Name: INTSIG-AIM) won the competition of Table Detection task.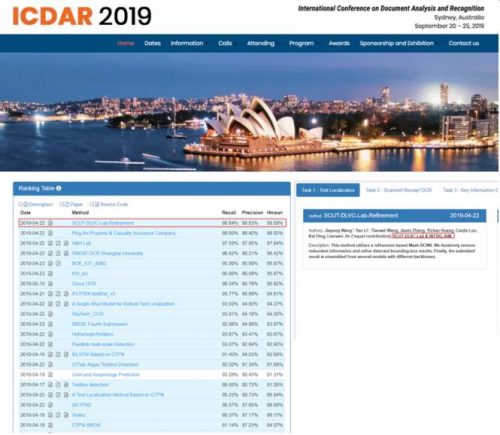 June 18, 2019 —
Recently, the world's top AI competition—ICDAR officially revealed the results of 2019 competition. CCi(Team Name: INTSIG-AIM) won the competition of Table Detection task. Meanwhile, CCi united with South China University of Technology jointly won the champion of Text Localization task in Scanned Receipts OCR and Information Extraction (w.r.t. SROIE) challenge.
Refer to the above figure:The results were posted on the website of CCi. CCi united with South China University of Technology and jointly won the champion of eceipt text location task.
ICDAR is the only top conference focusing in OCR task . Over the years, ICDAR competition, known as the "World Cup" in the OCR field, has attracted more than 3,500 teams from nearly 100 countries for its high technical difficulty and strong practical adaptability. Besides many famous universities, many tech companies such as Google, Microsoft, Amazon, Facebook, Ali, Tencent and Baidu also participated in the competition.
By virtue of its profound technical accumulation, application practice and bringing their own operating STR superiority into full play, CCi won the competition as a first time participant. SROIE competition and table detection competition use receipts and tables which are commonly used in real business scenarios as identification objects. It is the closest competition to real business application scenarios. The table detection task includes a variety of different types of samples (including handwritten samples, historical samples, etc.). And CCi won three first places. The SROIE competition restored various real-wolrd scenarios, such as the vague quality of the ticket, inconsistent format, partial damage of the receipt, and so on. CCi united with South China University of Technology also achieved an excellent result by winning one first place and one second place awards.
SROIE competition attracted a lot of teams from all over the world to participate thanks to its practicability. Domestic teams include Baidu, Huawei, SenseTime, Iflytek, Pingan Technology, Pingan Insurance, Shanghai Jiao Tong University, Situ scene Technology(Co-founded by YITU.), South China University of Technology, Huazhong University of Science and Technology and other enterprises and scientific research institutions. There are also many well-known oversea teams, such as NAVER (the parent company of the world famous manufacturer LINE), Intuit (an American financial-software giant company ), Veryfi(a receipt recognition app provider in silicon valley), CITlab of University of Rostock, IIAI (the national institute of artificial intelligence in the United Arab Emirates, known as "DeepMind" of United Arab Emirates), NeuralMind in Brazil, Center of Open Data in Humanities in Japan, and a team from Vietnam.
The tech leader of CCI indicated that table recognition and receipt recognition are two new technologies developed by the company, which have been recently applied to new products or new functions of products including CamCard and Receipt Robot, etc. This time, CCi won the champion in the international authoritative competition, which once again proved that CCi had become an industry-leading AI enterprise after years of accumulations by continuous investment in the field of intelligent recognition research and development. As the top development partner of Google in Asia, CCi releases business apps like CamCard, CamScanner, Qixinbao and Zhaodao, with more than 700 million users worldwide.
CCi currently owns more than 300 invention patents worldwide and supports 65 language recognitions which can identify business card, ID card, license plate, business license and other hundreds of entities. The business scenarios of CCi's Receipt Robot support various kinds of invoice/receipt recognitions, which include receipts, VAT invoices, train tickets, roll invoices, and other ten functions. They can directly connect to the IRS interface to achieve the increase and validation of the ticket. In STR field which is upgraded from OCR, CCi provided "STR+Data+AI" solutions for finance, insurance, logistics, security and real estate and energized different industries.
The spokesperson of CCi said, "The technology of AI company is with no doubt important, but practicability is more crucial. The technology should be applied in the business scene in a down-to-earth way." CCi's products are serving thousands of world's top 500 companies and large Chinese enterprises, leading the way to revolution of business pattern and construction of ecological industrial chain in the artificial intelligence era.
Contact Info:
Name: Rabbit
Email: Send Email
Organization: Shanghai HeHe Information Technology Development Co., Ltd
Website: https://www.ccint.com/
Release ID: 526199